I've written many times before that I'm not a huge fan of 3-D. In addition to reducing a movie's inherent brightness, I haven't found that filmmakers have made particularly good use of the technology and that, in general, it adds little to the theatrical experience. While I'm still not a 3-D convert, now that I have a dedicated 3-D TV at my disposal, I will admit that the home experience is

far

more satisfying than the 3-D seen in most multiplexes.

Even though it's essentially the same process (my Panasonic plasma has RealD 3-D with powered "active" glasses that are recharged via USB), I've found that using my own TV, and being able to adjust contrast and brightness, yields a far more impressive and satisfying three-dimensional image than what I've seen theatrically. Whether it's because my local theater isn't projecting with sufficient brightness, or simply because watching 3-D on a smaller set (55' in my case) makes the effect more impressive, I can say that the overall impression I have of 3-D is much more positive – this goes for 3-D Blu-Rays I've picked up and/or were sent for review (the Nicolas Cage drive-in flick "Drive Angry" is particularly fun, as is the recent "Fright Night" remake), or DirecTV's 3-D content, which includes a lot of the IMAX titles that are also available on Blu-Ray (albeit often at inflated price tags).
Of course, content is still an issue (at least JAWS 3-D is coming soon!), and the application of the technology going forward carries a long list of question marks with it. Make no mistake: we didn't buy a new TV for the sake of 3-D – 3-D is now being offered in the same way TV manufacturers are also including internet content, the ability to stream Netflix, etc. inside the sets themselves. For consumers, this means buying a newly-manufactured TV carries the ability to watch 3-D for no added, premium cost (the price of glasses notwithstanding, though Amazon sells some very good 'third party' glasses at a fraction of the price for Panasonic's house-brand).

I've previously discussed several 3-D titles that I brought over to a friend's set-up to take a quick look at. Having spent more time with the technology, I can at least say 3-D at home is more fun than 3-D in theaters, with far more impressive depth-of-field effects. Now, if we could get the studios to release some vintage 3-D films like CREATURE FROM THE BLACK LAGOON or DIAL M FOR MURDER (or '80s efforts like FRIDAY THE 13th PART III), then I think more movie buffs will develop an interest, though whether 3-D

ever

becomes more than a novelty is an issue that will continue to be debated.

In the meantime, A&E/NewVideo has a new 3-D title that's well worth tracking down for those with the ability to watch it:

WWII IN 3-D (46 mins., 2011),

a brief but welcome historical addition to the slowly-developing 3-D Blu-Ray market.

Narrated by Tom Wilkinson, this History Channel documentary details the use of 3-D in both Nazi propaganda photographs (and, in one instance, a training film) and Allied photography. As you might expect from a 45-minute TV documentary, the special doesn't go into great historical detail about the war itself – it's more a casual overview of the conflict focusing on the early use of stereoscopic 3-D. The program also offers some amazing stereo photographs taken by a now 97-year-old French resident during the war's final days, as well as before/after 3-D footage of assorted European locales involved in the conflict.

The picture quality is excellent, with some "ghosting" in the image evident at times, but the transfer is generally clear and precise (a 2-D version is also available on the disc, though it's basically pointless considering the entire documentary is predicated on viewers being able to view it in 3-D!). The DTS MA 5.1 audio is fine as well, though no extras are present.



New on Blu-Ray





THE IDES OF MARCH Blu-Ray (***, 102 mins., 2011, R; Sony):

Exceedingly well-acted, if obvious, political-thriller from director/co-star George Clooney tells us that politics is a dirty business – a revelation that few folks are likely to find surprising in this box-office underachiever from last fall.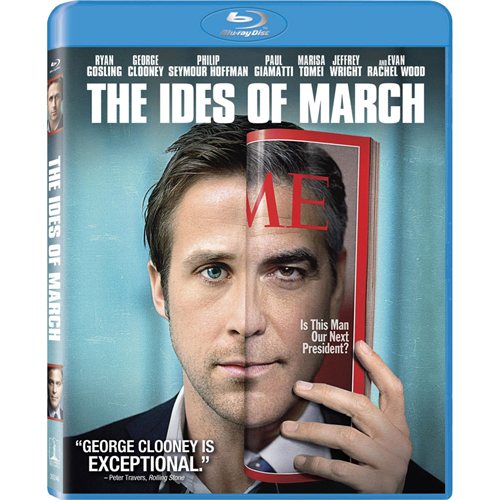 Where "The Ides of March" does prove satisfying is in its lead performances: Ryan Gosling plays an aspiring political operative working on Gov. Clooney's presidential campaign. Set in the midst of primary season, Gosling ends up in the muck as he tries to outmaneuver fellow campaign strategist Philip Seymour Hoffman while Clooney battles a frontrunner rival for the Democratic nomination. As if it's not enough that Hoffman doesn't trust Gosling, and a rival campaign manager (Paul Giamatti) covets Gosling's services, a young intern working on the campaign (Evan Rachel Wood) houses a secret that threatens to take Clooney's candidacy down – or elevate Gosling's career.

Clooney and longtime producing partner Grant Heslov adapted Beau Willimon's play "Farragut North" for this slickly-produced drama which espouses its star's ideology at the same time it portrays its characters as shady Machiavellian prototypes. The story houses few surprises, nor does it really offer any fresh insights into the political scene – in fact, it's the type of story we've seen many times over, just dressed up with terrific actors who make the material compelling. "The Ides of March" ultimately isn't a profound political statement but it is a stylish and quite watchable film worth a look as we head into this year's presidential campaign.

Sony's Blu-Ray looks great with its 1080p AVC encoded transfer and DTS MA soundtrack. Extras include commentary with Clooney and Heslov and several behind-the-scenes featurettes, along with an Ultraviolet digital copy.



REAL STEEL Blu-Ray/DVD (**, 127 mins., 2011, PG-13; Dreamworks/Buena Vista):

Dopey robot-boxing affair from director Shawn Levy (of the infamous "Pink Panther" and "Cheaper by the Dozen" remakes) credits Richard Matheson's vintage short story "Steel" for its inspiration but feels more like a retread of "Over the Top" and "Rocky" by way of the "Transformers."

In one of his less-convincing performances, Hugh Jackman plays a downtrodden fighter struggling to make ends meet by boxing his washed-up robot at local rodeos; circumstances (in this instance, his late wife's passing) dictate that he takes care of his young son (Dakota Goyd) whom he hasn't seen in years. The kid doesn't want to be around his obnoxious, selfish father (who would?) until he sees his latest venture: a Japanese robot that Jackman imports in the hopes of returning him to the big-time. While that robo-fighter also fizzles out, the duo end up finding a robot with a mind of its own who takes to the ring nearly as well as Rocky Balboa himself.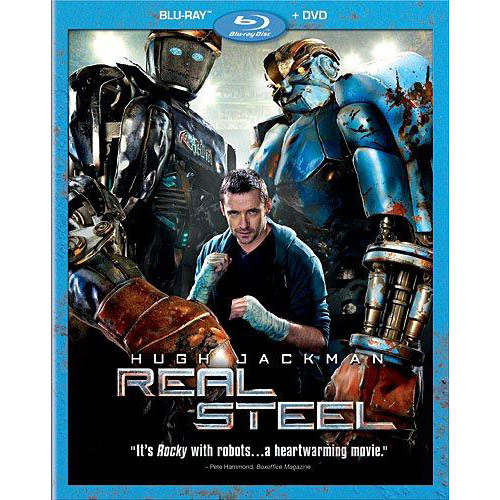 "Real Steel" might work fine for young kids who won't mind the huge chunks of Dan Gilroy and Jeremy Leven's script that were cobbled together from other sources, but it's likely to be a struggle for adults to avoid tedium (or perhaps a nap) while watching it. The film offers zero surprises and even Jackman's overly broad performance feels like posturing – but that's to be expected in a film from a director not known for his subtlety.

Buena Vista's Blu-Ray looks nifty with its 1080p transfer and DTS MA soundtrack, and offers a sizable amount of extras, including a 13-minute discarded subplot and other deleted scenes; commentary with the director; Making Of featurettes; bloopers; and a standard DVD copy.



TEXAS KILLING FIELDS Blu-Ray (*½, 105 mins., 2011, R; Anchor Bay):

Detectives Sam Worthington and Jeffrey Dean Morgan investigate a serial killer in rural Texas, where they find themselves running into red tape in order to track down the murderer before he strikes again in this dismal direct-to-video feature.

Worthington and Morgan fail to generate much chemistry in a shockingly pedestrian thriller – based loosely on a real case – that also wastes the considerable presence of Jessica Chastain as a fellow detective and Chloe Grace Moretz as the killer's possible next victim. Director Ami Canaan Mann struggles to make the well-worn script (a pastiche of cliches written by Donald F. Ferrarone) interesting visually, and most of the cast seems to be going through the motions. Needless to say "Texas Killing Fields" is a big-time letdown given its young and talented cast – a waste of both their time and yours.

Anchor Bay brings this barely-released thriller to Blu-Ray in a good-looking 1080p HD transfer with DTS MA audio. Extras include a commentary from the writer and director.

---
New From BBC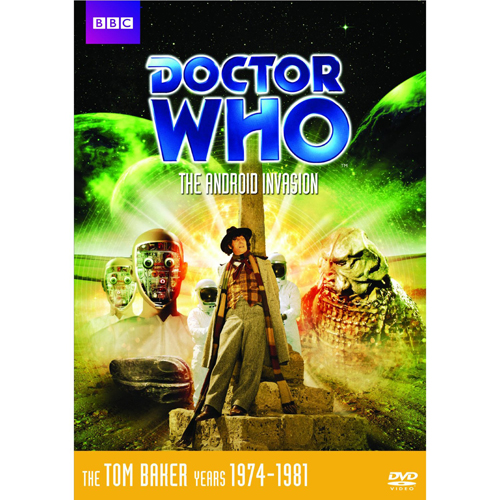 Several new titles highlight the BBC's January releases on DVD and Blu-Ray.

For Dr. Who fans, DOCTOR WHO: THE ANDROID INVASION (98 mins., 1975) finds TARDIS landing in Devesham where Sarah and the good Doc (Tom Baker) find the village mostly deserted and populated with deadly white-suited spacemen. This multi-part mid '70s arc, written by Terry Nation, is the latest "Dr. Who" Special Edition DVD from the BBC offering a wealth of extras: commentary from actors Milton Johns, Martin Friend, producer Philip Hinchcliffe and production assistant Marion McDougal; a half-hour Making Of; a profile of Hinchcliffe; a photo gallery; commercial; and plenty of PDF materials are all on-hand.
A lengthier Jon Pertwee story, INVASION OF THE DINOSAURS (148 mins., 1974), likewise receives the Special Edition DVD treatment (here in a 2-disc set), with Dr. Who searching for Sarah Jane in the midst of a London besieged by dinosaurs. Commentary tracks, deleted scenes, a photo gallery and extensive featurettes make for another must-have for Dr. Who fans.

Season 3 of MERLIN (562 mins., 2010), meanwhile, also arrives on DVD, with Merlin and Arthur undertaking various adventures as the great battle for Camelot wages on. This five-disc set of the popular BBC import offers its complete 13-episode third season with episodes The Tears of Uther Pendragon (parts 1 and 2), Goblin's Gold, Gwaine, The Crystal Cave, The Changeling, The Castle of Fyrien, The Eye of the Phoenix, Love in the Time of Dragons, Queen of Hearts, Sorcerer's Shadow, and the two-part finale, The Coming of Arthur. In addition to 16:9 transfers, the DVD includes cast/crew audio commentaries, a Making Of featurette, deleted scenes, outtakes, a photo gallery and wallpapers.

Finally, Volume 3 of PRIMEVAL (581 mins., 2011) also hits home this month on Blu-Ray and DVD. This wacky BBC series (seen on BBC America domestically) offers more dinosaurs, trippy plots and eclectic characters, with the ARC team having been fragmented after leader Danny is whisked off to a Pilocene age Rift Valley while Connor and Abby fight their way through a Cretaceous age of dinos more entertaining than those seen in Fox's bland "Terra Nova." Meanwhile, back home, a new ARC team has been assembled in their absence, leading to some inevitable friction between the old and new members. BBC's Blu-Ray set offers agreeable 1080i high-def transfers, stereo soundtracks and extras including episode prequel webisodes and a Making Of featurette.
---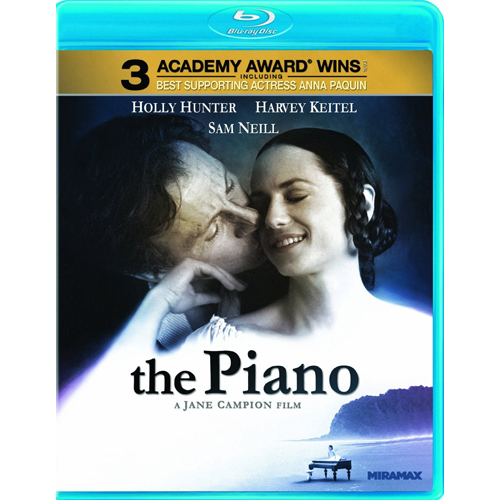 New Lionsgate Titles

COLD MOUNTAIN (**, 154 mins., 2003, R; Lionsgate): Widely praised adaptation of Charles Frazier's book from filmmaker Anthony Minghella ("The English Patient") didn't work for me, but it's possible your tolerance for this pretentious, outlandish Civil War-era soap opera will be substantially higher.

Jude Law plays a Confederate soldier who leaves his beloved (Nicole Kidman) behind for the battlefield of the Civil War. While he's off fighting a futile fight, she's left to run her farm with the help of Kathy Baker and crazy o'l country coot Renee Zellweger (Oscar winner). Ultimately, Law begins a long, long, long journey back to the woods of North Carolina, running into a succession of seedy characters (including Philip Seymour Hoffman and Giovanni Ribisi), plus a new single mother (Natalie Portman) and despicable Union and Confederate veterans along the way.

Zellweger's performance gives some much needed levity to the rest of "Cold Mountain," which is by turns slow, seedy, and depressing. The production, at least, is first class all the way: production designer Dante Ferreti, cinematographer John Seale, and composer Gabriel Yared all provide a strong presentation for the senses, yet when the story feels so unreal and pretentious, it's difficult to admire the artistic work turned in by the top-notch crew. Frazier's book was criticized by some for being overwrought, and the movie itself unsurprisingly suffers from the same fate.

Lionsgate's Blu-Ray offers a very crisp 1080p transfer with DTS MA audio and numerous extras from the prior DVD edition. These include an informative commentary track with Minghella and sound editor Walter Murch, encompassing the technical and artistic challenges of making the film; a handful of deleted scenes and two documentaries (one of which, "Climbing Cold Mountain," is quite good) are included; while "A Journey to Cold Mountain" is a concert special showcasing the movie's period music, which was obviously patterned after the bluegrass/country flavored compilation made so popular in "O Brother, Where Art Thou?".

Mingella's earlier Oscar triumph THE ENGLISH PATIENT Blu-Ray (**½, 162 mins., 1996, R; Lionsgate) has also made its way to Blu-Ray alongside several other Miramax Oscar-celebrated titles. This Best Picture winner boasts a satisfying 1080p transfer with DTS MA 5.1 audio and extras ported over from th Special Edition DVD (commentaries and numerous featurettes).

THE PIANO Blu-Ray (***½, 130 mins., 1993, R; Lionsgate): Jane Companion's offbeat tale of a mute woman (Oscar winner Holly Hunter) who travels to New Zealand along with her daughter (Anna Paquin, another Oscar winner) in order to marry a local man (Sam Neill) hits Blu-Ray in a no-frills (no extras outside the trailer) edition from Lionsgate. The 1080p transfer nicely reproduces Stuart Dryburgh's cinematography and Campion's visuals. The 2.0 DTS MA soundtrack is solid and well-engineered.

FRIDA Blu-Ray (***, 123 mins., 2002, R; Lionsgate): Julie Taymor's 2002 portrait of artist Frida Kahlo garnered some six Oscar nominations and offers one of Salma Hayek's finest performances. Lionsgate's Blu-Ray once again includes a satisfying 1080p AVC encoded transfer with 5.1 DTS MA audio and ample extras from its prior DVD edition (commentary with Taymor; an AFI Q&A with the director; interview with Hayek; numerous behind-the-scenes featurettes).

Where Have You Gone, Roland Joffe?

Just the other day I was having a conversation with a friend about directors who made a huge name for themselves in the 1980s but have since basically disappeared off the face of the Earth. In addition to Alex Cox, Roland Joffe's name came up – a filmmaker who made a big splash with "The Killing Fields" and "The Mission," but who petered out after directing several high-profile flops in the '90s (though I still confess to having enjoyed "The Scarlet Letter," colonial hot-tub scene and all!).

How odd, then, that not only did I receive two new Joffe films last week, but did so...on the exact same day! Neither, alas, is likely to get his career going again.

THERE BE DRAGONS (**, 122 mins., 2011, PG-13) is highly uneven but ranks as the superior of the two films; a tale of the life of Saint Josemaria Escriva (Charlie Cox), who founded the Opes Dei movement in the Catholic church. Well mounted and nicely shot in widescreen by Gabriel Beristain, "There Be Dragons" is unfortunately derailed by Joffe's own, uneven screenplay, which mixes in a contemporary story involving journalist Dougray Scott (who's writing a book on Escriva) with scenes of Escriva's life and times during the Spanish Civil War. The film doesn't work but has its moments along with a fine supporting cast (Olga Kurylenko, Charles Dance, Geraldine Chaplin, Wes Bentley and Derek Jacobi among them). Fox's AVC encoded 1080p Blu-Ray transfer is excellent and the disc also includes deleted scenes, a featurette with Bentley and a DTS MA 5.1 soundtrack.

Despite its obvious shortcomings, "There Be Dragons" fares much better than YOU AND I (*, 101 mins., 2011, R; Lionsgate), an awful, unreleased bomb produced by the "Russian American Movie Company" several years ago that's been languishing on the shelf. The plot, involving two girls (Misca Barton, Elena Katina) who fall in love at a "t.A.T.u" concert in Russia, is a mess and makes even Joffe's worst work look watchable by comparison. Lionsgate's DVD includes just a 16:9 (2.40) transfer with 5.1 Dolby Digital sound.

Quick Takes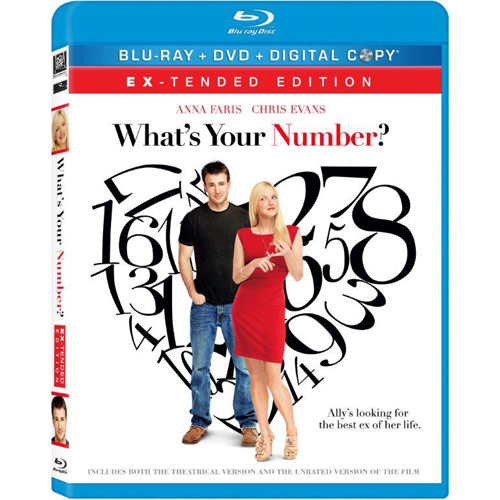 BUCKY LARSON: BORN TO BE A STAR DVD (*, 97 mins., 2011, R; Sony): Disastrous Adam Sandler-produced comedy functions purely as a vanity vehicle for star Nick Swardson, who co-wrote the script for this tale of an aspiring adult film star with buddies Sandler and Allen Covert. Despite the presence of Christina Ricci, "Bucky" made many a "Worst of 2011" critic list, and with good reason: the lead character is grating and annoying, and the film devoid of laughs. Sony's DVD of this box-office bomb (one of the lowest-grossing wide releases of recent years from a major studio) includes several featurettes, a 16:9 transfer and 5.1 soundtrack.

WHAT'S YOUR NUMBER? Blu-Ray/DVD/Digital Copy (**, 106 mins., 2011, R/Unrated; Fox): Even though this disappointing Anna Faris comedy died at the fall box-office, the minimal charms of this rom-com (which Faris produced herself) might be more palatable on the small screen. "Captain America" himself, Chris Evans, co-stars in a pedestrian vehicle about a typical gal who decides to go through her exes in order to find Mr. Right; some scattershot laughs pop up here and there, but ultimately not enough of them, with the film struggling to stay afloat on the basis of Faris' comedic skills. Fox's Blu-Ray includes an extended unrated version of the film, deleted scenes, a gag reel, DVD and digital copy as well.

THE WHISTLEBLOWER Blu-Ray (**, 112 mins., 2011, R; Fox): Clumsily-told true account of Kathryn Bolkovac, an American cop who agrees to become a U.N. peacekeeper in Bosnia where she uncovers a prostitution ring and associated conspiracy. Rachel Weisz gives a terrific performance in "The Whistleblower," but she's undone by a mediocre script and indifferent direction by Larysa Kondracki. Fox's Blu-Ray includes a 1080p transfer, DTS MA soundtrack and a behind-the-scenes featurette of the real Bolkovac.

ALSO NEW FROM HISTORY CHANNEL/NewVideo: FROZEN WORLD: THE STORY OF THE ICE AGE (aprx. 5 hours) offers four different Ice Age-related History Channel documentaries: "Clash of the Cavemen," "Volcanic Winter," "Journey to 10,000 BC" and the sky-is-falling speculation special "Mega Freeze"...KING ARTHUR AND MEDIEVAL BRITAIN (aprx. 5 hours) likewise boasts a "Best Of" compilation of assorted specials related to King Arthur and the Knights of the Round Table: "Quest for King Arthur," "King Arthur: His Life and Legends," "Ancient Mysteries: Camelot," "Knights and Armor" and "Quest for the Holy Grail".

NEW FROM MPI: Adrian Garcia Bogliano's COLD SWEAT (80 mins., 2011) stars Facundo Espinosa as a young man trying to find his girlfriend when he runs into a pair of crazy old political radicals in this Spanish import. Dark Sky Films' DVD includes a number of extras, including commentary, deleted/extended scenes, trailers, a comic book (!), behind-the-scenes segments and more. The 2.35 (16:9) transfer is terrific, as is the 5.1 sound...CHALET GIRL (97 mins., 2011) boasts Felicity Jones as a tomboy skateboarder who finds her true calling on the slopes in this snowboarding pic co-starring Brooke Shields, Ed Westwick and Bill Nighy. IFC's DVD includes commentary, interviews, featurettes, viral videos, a trailer, a 16:9 transfer and 5.1 soundtrack.

TYLER PERRY'S MEET THE BROWNS Season 4 DVD (440 mins., 2009-10; Lionsgate): Three-disc set includes episodes 61-80 (the complete season 4) from the popular TBS-Tyler Perry sitcom. 16:9 transfers and 5.1 soundtracks are on tap throughout the 20 episodes.

NEXT TIME: Criterion unleashes GODZILLA! Until then, don't forget to drop in on the official Aisle Seat Message Boards and direct any emails to our email address. Cheers everyone!